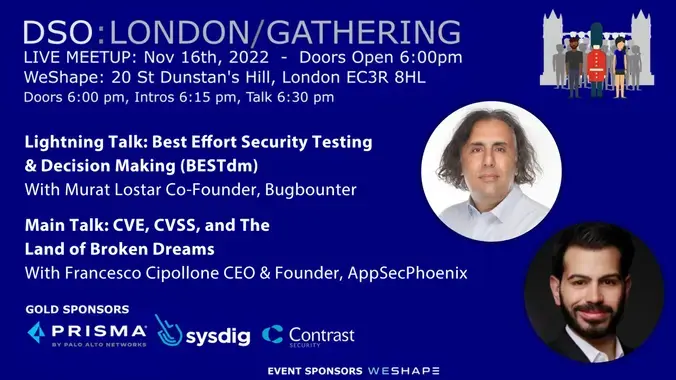 Appsec Phoenix CEO Francesco Cipollone will be talking at the London DevSecOps meetup.
Book your place here: https://www.meetup.com/devsecops-london-gathering/events/289035730/
Meeting Details
CVE, CVSS, and the land of broken dreams
Context is king; Prioritization is queen, and CVSS is dead. Stop your tiers and start with a risk approach and contextual view of vulnerabilities.
Vulnerability tooling is increasing, security advisories are faster, and teams are leaner. Have we lost the battle of vulnerabilities, is the shift left and the view that 'security is everyone's problem working?
We present a risk and cyber quantification view on vulnerabilities across cloud, application, and infrastructure addressing modern approaches to cybersecurity from the point of view of the product security team.
We will walk several use cases showing how context, prioritization, probability and impact analysis can improve which vulnerability to solve first.
The whitepaper and material for the talk can be downloaded here
Speaker bio:
Francesco Cipollone
Francesco is a seasoned entrepreneur, CEO of the Application Security Risk based posture management Appsec Phoenix, author of several books, host of multi-award Cyber Security & Cloud Podcast, speaker and known in the cybersecurity industry and recognized for his visionary views. He currently serves as Chapter Chair UK&I of the Cloud Security Alliance. Previously, Francesco headed up HSBC's application and cloud security and was a Senior Security Consultant at AWS. Francesco has been keynoting at global conferences and has authored and co-authored several books. Outside work, you can find me running marathons, snowboarding on the Italian slopes, and enjoying single malt whiskeys in one of my favourite London clubs.
Why AppSec Phoenix
Appsec Phoenix is an innovative risk-based solution that focuses on execution first and brings developers, executives and security around the same data with different lenses and a focus on execution. AppSec Phoenix removes the stress from devsecops and lets developers focus on what's more important, delivering value to the business with security at the centre.